August 21st, 2013
Vlam
9 days till PAX, and today I will share a few words on Ridiculous Fishing and Vlambeer, the team behind it.
Beer
They're one of those indies who seems to be everywhere, all the time! On each convention I've been to, they've appeared, and they've always got something fun to show the crowd. While we've been around, I can't remember there not being a Vlambeer. They consist of Rami Ismail(who also created the ever useful PressKit()) and clever game designer Jan Willem Nijman(who's first game I played was Strangers).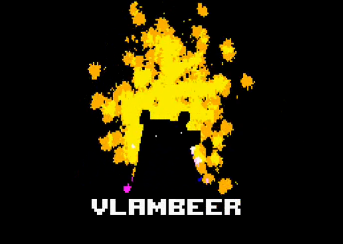 This year seems to be the 'year of the Vlambeer' too, with the release of Ridiculous Fishing, their attendance at PAX 10 plus Indie MEGABOOTH, and even today came the announcement that their newest game Wasteland Kings is coming to PS4 and Vita, featured at Sony's Press Conference at GamesCom. One hell of a team, and one hell of a line-up! Let's dip our toe into their big blue PAX 10 entry.
Ridiculous Fishing
Even the name is fun to say. What got me hooked was the intuitive and excellent gameplay, what made me stay was the music(I've listen to this track everyday after it's release), the graphics and the insane amount of charm the game displayed. I considered purchasing an IPad to play it, instead, I risked life and limb by stealing and installing it on my mom's, playing it for weeks, lurking far from her sight.
You play the game in 3 stages:
1st stage: you throw out your hook and stay clear of fish by tilting your device from left to right. If your hook collides with a fish or reaches the bottom of the ocean, the second stage kicks in and this is where it get's frantic.
2nd stage: The music and gameplay reverses as the line reels in, and you're goal is to plant your hook firmly in the faces of many fish! They will attach to your hook until it reaches the surface again, and this is where it goes apes**t off the f***king walls!
3rd stage: The hooked fishes get pummeled into the air, you draw your weapon of choice, and blast em, like there's no mouths worth feeding for 1000s of miles! Cash is rewarded on every fish who's guts has been spilt, which let's you upgrade your weapon, your fishing equipment, bonus items and hats.
Gotta love it, gotta have it. For those who havn't, get it, allthough rumours has it they just passed 300,000 sales so I'd say there's a good chance you've done some fishing in the same ponds as I have. Kudos to a great team whom I very much look forward to meeting!
From deep oceans to deep space, tomorrow I'm going to look at Lovers in a Dangerous Spacetime
Leave a Reply