August 22nd, 2013
Stealth…
…and me was never friendly. I grew up on River City Ransom, Sonic and Halo, all of whom neglected any form of hide and seek in favor of brash and speedy action. I tried my hands on Metal Gear Solid once, but my trigger happiness got me killed hundreds of times… on the first level.
The game I've tested today on the other hand managed to keep me out of my trigger happy state by making me laugh. It's name might got a serious ring to it, but it's pure fun to play!
Gunpoint
Immidietly when the game booted up I croaked by laughing. The game might have a bit of a gritty look and a musical mood reminiscing of Twin Peaks, but it all turns whimsical when the characters begin to speak. Off the bat, it's humour reminds me of Ben Yathzee's Trilby games, where the characters dialogues makes the game.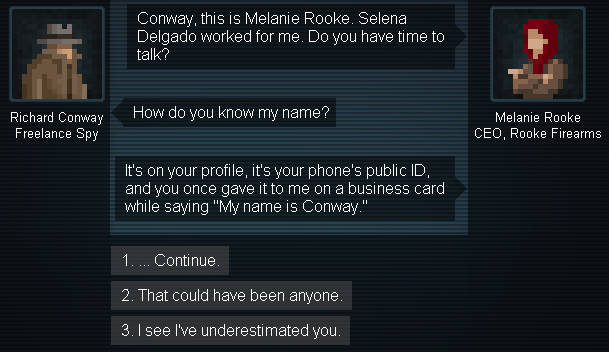 Flick
In Gunpoint though, you've got both great dialouge and hilarious gameplay! You play as Conway, a freelance spy. The goal is to break an entry, complete a given job, and get out! The different things the player can do, is what makes this game shine. I'll break down the basics(or you could watch the Gunpoint trailer):
You can climb walls, ceilings, activate elevators, move in staircases, hack computers, etc.
Using the mouse, you can make a giant leap in any direction(Remember the flicky frogs? It's like that)
You can rewire any circuit, forexample: You can connect a light switch to a door, and press it so the door opens.
You can avoid guards by being stealthy, or maim em by flicking yourself in their direction to pin em down, and punch em repeatedly in the kisser by pressing the mouse.
Each job rewards you with a rank and cash to upgrade your repetoire of skills and abilities, of which there are ALOT!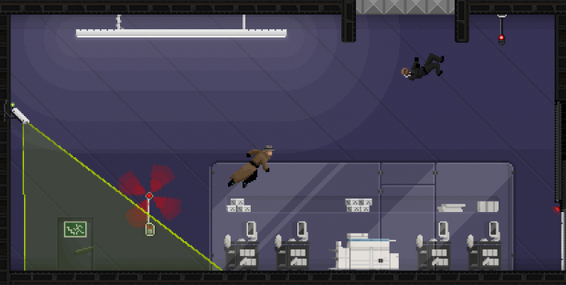 Breaking it down like this might make it seem like the game is advanced on all kinds of levels, but that's where the genious comes in!
It's super easy to execute any of the actions, and even a kid playing this should have no problem understanding how the game is controlled. If I have time on my hands come this weekend, this game will be beaten righteously! Get Gunpoint through it's website for 10$. Bnargnin!
Tomorrow, we'll find ourselves in a game of platforming and falling blocks!
Leave a Reply