April 22nd, 2013
Some new updates for Owlboy!
For the first dungeon in the game, I made a custom tileset, but ended up reusing a few assets since it was mainly intended to be a quick tutorial level. Never really felt right though, with some tiles repeating a bit too much. While I feel like the color scheme worked nicely (some of the earliest dungeons I did tended to be a bit monotone,) I didn't want the player to get blasted with the same looping backgrounds, so I decided to make an additional set to spice things up a bit.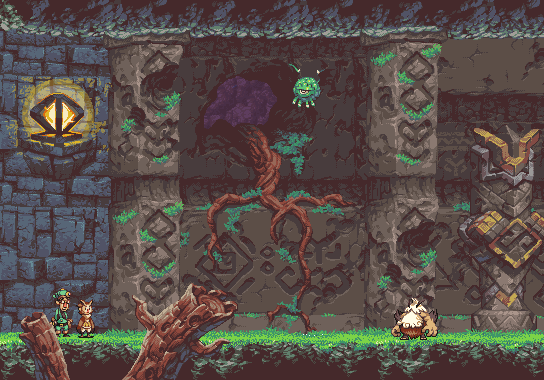 The idea was to bring in some more colors into the mix. The dungeon had mostly gray, green and blue, so I worked in some yellows, browns and tied in some gameplay elements thematically by adding some red, dried up trees. While it'll still remain to be seen how we're going to use these in the game, these assets will definitely come to good use. I've been slowly adding more elements to the dungeons as we complete them, so I'm sure there's going to be a few hinting posts in the future.
Next up is finishing a new move I'm going to keep a secret, and a new type of bird that is both a chicken, a pelican, and an axe.
Yes, I am serious.