August 21st, 2013
Co-op
I mentioned in the Towerfall entry that I'm crazy for multiplayer, and one mode in perticular has always been my faved choice, the co-op mode. The very first game I ever played was River City Ransom/Streetgangs for the NES, which had co-op so good, I've yet to find games which can match it.
It got team-work and competition between two players just right. The players could offer help to one another or battle between themselves. The best thing ever was when you could pick up your unconscious team player, and use him to bash other bad guys across their faces.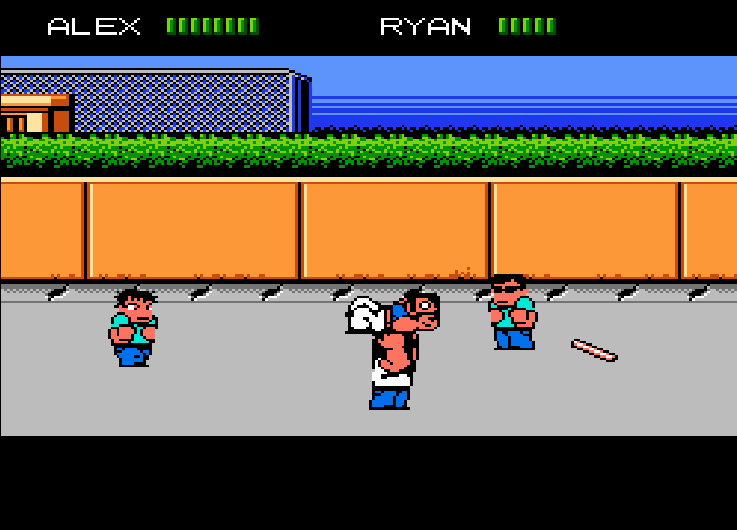 Which brings me to another multiplayer game that seems to get the co-op just right.
Lovers in a Dangerous Spacetime
While I can't get to try this one out for myself just yet, the trailer says it all. Two players share a spaceship, and they need to work together to get through an onslaught of space lingering baddies.
With this game, I would easily get a bud over, staying up all night, trying to beat it, beers and fists flying everywhere. In the game you can control the spaceship itself by heading up to a monitor that controls several features of the craft, like:
Turrets
Shields
Direction and thrust
Special weapons/attacks
No grayscales in space
The Asteroid Base team of Matt Hammill, Jamie Tucker and Adam Winkels had their game nomintated for IGF's Visual Excellence award this year, the reason being that it looks gut-wrenchingly gorgeous!
I might be a man of my pixels, but the colors in this game makes me want to rub my eyeballs up against the screen. If space looked anything like this, I woulda shot myself up there on a rocket long ago.
Hoping to have a nice round of 'friends forever in space' at PAX in no less than 8 days!
Tomorrow there will be steatlh.
Leave a Reply